Air Conditioning
When you enter a home with central air conditioning, you can tell. It has a fresh smell and is clean and quiet.  The days of the old swamp coolers are nearly past.
Today's A/C's are less money to operate.  As you look through our air conditioning pages you will become familiar with terms such as: SEER (seasonal energy efficiency rating), decibel rating and tons, (a measurement of cooling capacity).  Also, you will learn about the new refrigerant called R410A.  This new refrigerant has been very successful and it does not have the "ozone depletion" of other refrigerants.
Manufactures have also made changes in the looks of many units.  Metal protective covers and grilles protect the outdoor coils on most upper level condensers.  Two-stage air conditioners are engineered  to maximize operating cost and efficiency. They maintain a lower amount of cooling on mild days and automatically change to maximum capacity on hotter days.  Contact us for a free estimate. Please let us evaluate your home or office. Our representatives will offer solutions to keep you cool and comfortable.
In Northern Utah, we experience a very unpredictable climate. Who would ever guess you could golf one day and go snowmobiling  the next? This is very common for our spring and fall. And what about the summer?  Up to 105 degrees! This is enough to make you want to stay indoors.
We have been doing business in Utah since 1985, so this kind of weather is what we expect. That's why we provide emergency service–to keep you comfortable. With the many choices of brands and equipment, we will make recommendations to suit your needs.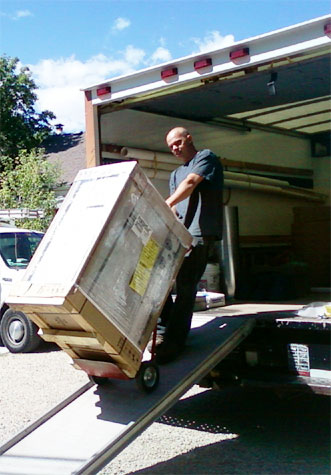 Whether you call us for air conditioning repairs, or  to install new equipment, our technicians are "true professionals". Our technicians are EPA certified and trained on R410A. Our ongoing training program is about providing the best expertise and safety when it comes to maintenance and repair of your air conditioner. At American Appliance HVAC, we're proud of our technicians and the pride they take in their work skills.
You can feel good when our employees are in your home. Our technicians and installers are clean cut and professional.  Our trucks and vans have  our company name and  our shirts bear our company name. Our technicians and installers enjoy working at American Appliance HVAC, and your complete satisfaction assures them of future business.